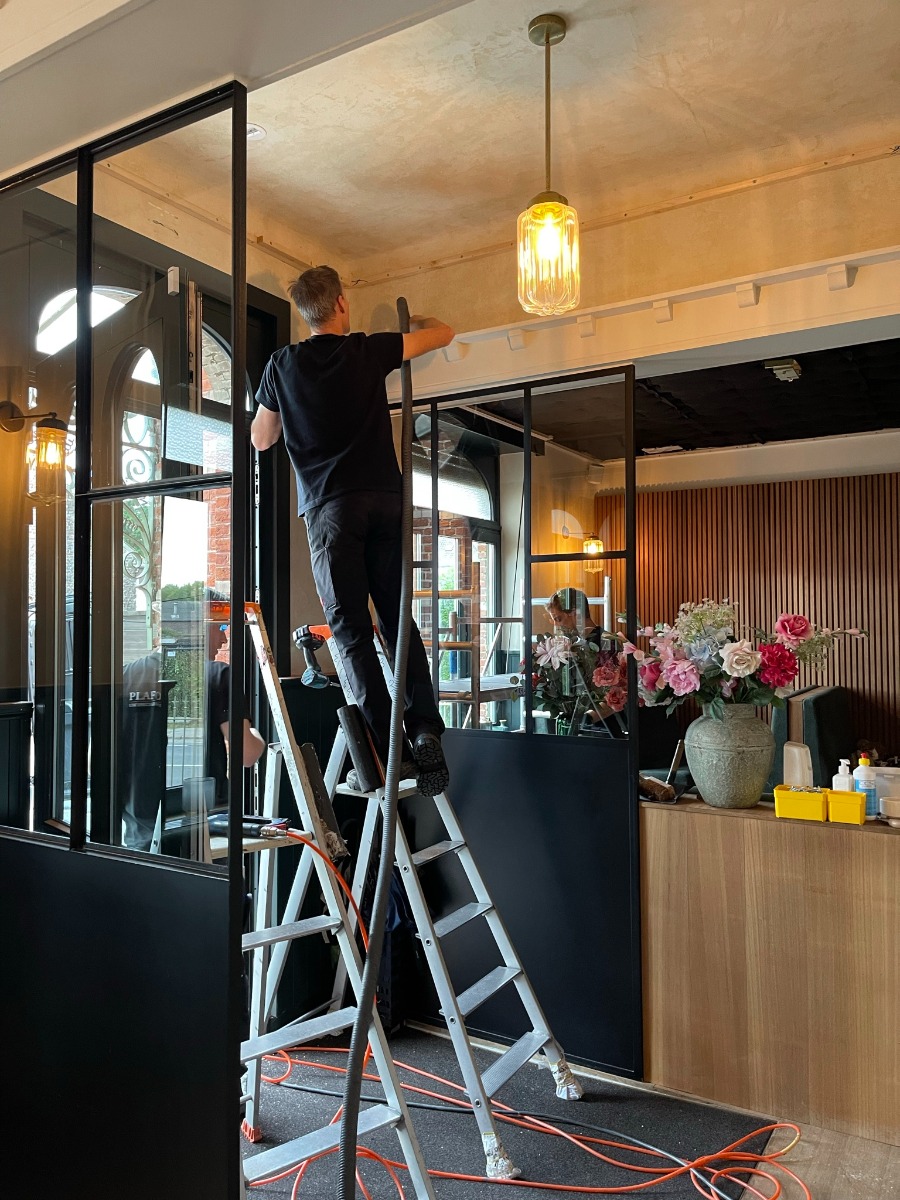 Placing a ceiling yourself, tips for the do-it-yourselfer
Placing a stretch ceiling yourself, is it difficult? Or can you do it yourself?
If you are handy with textiles and you have good technical insight, then it is possible to install a stretch ceiling yourself. But do not underestimate it, it is an easy system to place a suspended ceiling if you can work very fine, if you are a person who is rather brutal in his work, then we strongly recommend that you contact a professional .
How do you proceed when installing our STRETCH ceilings?
- Determine the finishing height of your new diy stretch ceiling installation in your living room, bathroom or other area
- Mount our clamping profiles at the correct height
- Determine the position of your lighting
- Mount the electrical wiring for the provided light fixtures
- Measure the space and order your stretch ceiling fabric (20 to 30cm larger along each side of the room)
- Hang your stretch ceiling cloth every 50cm in the tension profile
- Check whether the cloth hangs taut without too much bag formation or folds
- Clamp the entire stretch ceiling in our clamping profiles
- When you are done with this, cut off any excess cloth and push the excess cloth that is still visible into the clamping profile
- Now it's time to cut out the spots and mount the spots
- After clamping and installing the spots, check whether there are any dirty spots on the stretch ceiling. You should then clean these dirty spots with our cleaning product specially developed for our stretch ceilings (so yes, your stretch ceiling is washable)
Is this something for you?
Be sure to contact us, our qualified professionals will help you during your self-construction process to cover you popcorn ceiling with our stretch ceiling, we can receive you in our training center where we teach our dealers how to assemble a stretch ceiling. If we notice that you work better with one of our partners, we will certainly share this with you, and we will put you in touch with our nearest dealer.
Contact us by filling out the form below, we will contact you within 24 hours, we are looking forward to helping you further !